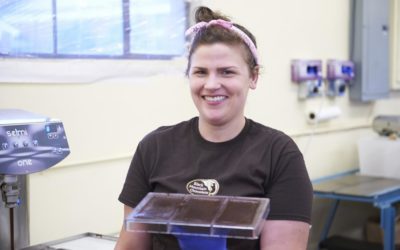 Black Mountain Chocolate
Megan Peters, Pastry Chef and Head Chocolatier
Black Mountain Chocolate is the dream of Dawn and Brent. Our passion is to reconnect eaters with their food sources, allowing folks to experience how food is created. We seek to restore true craft in a high-tech, mechanized world, working in the medium of everyone's favorite food: chocolate! Inspired by the artisan traditions of the Appalachian region, Black Mountain Chocolate is personally crafted all the way from the cocoa bean. We're not just melting and molding industrial chocolate, like so many other brands. We work in small batches to coax the maximum flavor from each and every cocoa bean. Our ingredients are natural and organic, and our beans are ethically sourced. Black Mountain Chocolate is the original North Carolina bean-to-bar chocolate, and still comes to you fresh from our local workshop. Join us up on Black Mountain. Life is sweeter up here! www.blackmountainchocolate.com 
Corner Kitchen, Chestnut, Corner Kitchen Catering
Joe Scully, Owner/Chef
After working his way from host to line cook in a popular Hackensack, NJ restaurant, Joe enrolled in the Culinary Institute of America in Hyde Park, NY and graduated first in his class. A position at the Waldorf-Astoria landed him a fellowship at the Culinary Institute's Escoffier Room restaurant. Subsequently, Joe won numerous culinary competition awards, co-founded two distinct food-manufacturing companies, and moved from the Sous Chef position to Executive Chef at various restaurants in Atlanta and New York City.
In February of 2004, Joe opened Corner Kitchen in Biltmore Village in Asheville. Serving breakfast, lunch, and dinner, and using local farmers, butchers, and food crafters to keep the food authentic, Corner Kitchen quickly became an institution in our little mountain city. Joe's delicious food was in high demand for private parties, events, and weddings, so the natural progression was to open Corner Kitchen Catering. 
The popularity of Corner Kitchen, spurred Joe and his business partner, Kevin Westmoreland, to open Chestnut in the heart of downtown Asheville at 48 Biltmore Avenue in 2012. While it may seem a little more formal, the restaurant's "come as you are" hospitality puts guests at ease while allowing an exploration of amazing hand-made cocktails, great food, and uncompromising service. Plus Joe is a super nice guy who makes everyone feel special.
Both of Joe's restaurants are on everyone's "do not miss" list when visiting Asheville. To view menus and make reservations visit thecornerkitchen.com and chestnutasheville.com. Or let them bring their extraordinary food to you at cornerkitchencatering.com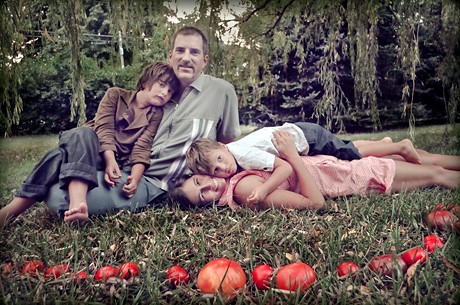 Early Girl Eatery
Julie & John Stehling
John and Julie Stehling met in Charleston, South Carolina where they both worked for John's brother at the Hominy Grill. From Charleston they traveled extensively, but thoughts of settling down always brought them back to Asheville and back to the dream of owning their own restaurant.They envisioned Early Girl as a spot where all of this could come together – a place for straightforward, delicious, locally sourced meals, for desserts worth the sugar, and with a dining room where laughter and loud conversation filled the space. They have always thought of Early Girl as a way to be part of Asheville, raising their children in a community they are contributing to. Feeding people and providing a space where people are happy to be fed may not be rocket science, but everyday they consider it an honor and a privilege to open the doors.
Centrally located in downtown Asheville on historic Wall Street, the critically-acclaimed and locally beloved eatery offers a farm-to-table southern comfort food experience. The Early Girl serves dinner Tuesday through Saturday night and offers breakfast and lunch seven days a week.
You can find them online at www.earlygirleatery.com
Green River Picklers
Brandi and Beau Martin
You could say they were born to pickle. Beau and Brandi keep the same pickling traditions alive that have existed in their families for over 100 years. With recipes passed down through generations, they remain true to the roots of their craft.  
Founder, Beau Martin, grew up beside the Green River in Tuxedo, North Carolina. His maternal family, the Ciolas, brought pickling traditions from Northern Italy. While his fraternal family, the Martins, preserved their annual harvest using ancient methods of Southern-style pickling. After years of helping both sides of his family preserve foods for their family cellars, Beau perfected the art of the pickle. He created his yearly stash of pickled green tomatoes using a recipe handed down from his grandfather, David Martin, Sr. Word spread about the delicious briney green tomatoes, and Beau decided he would share the family tradition with others. He became certified with his acidified food license in 2011 and began creating pickled foods to please the masses. 
Each season Green River Picklers create heritage-inspired products including limited edition batches of Ciola Giardinera, Dave's Green Tomatoes, & Suzanne's Sweet Rings. Even the names speak of familial love, local produce, and the vast landscape of Western North Carolina. You can find them at www.grpicklers.com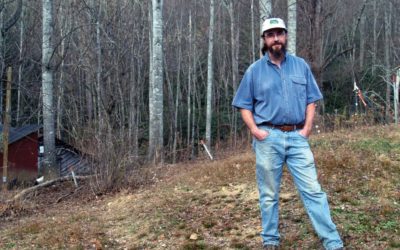 Imladris Farm
Walter Harrell
Imladris Farm, owned and operated by Walter, Wendy, and Andy Harrill, is a small family-owned farm focusing on sustainable agriculture. The farm is their re-creation of Walter's great-grandparents' farm. Since inheriting the farm in 1997, they've found numerous fruit trees, including apple and plum trees, nut trees, raspberry bushes, gooseberry bushes, and more. They've made it their goal to return to earlier, simpler methods of agriculture and living. They feel strongly that plants and animals, if supported and nurtured, will produce high-quality yields that are unavailable through conventional, commercial means.
Their farm is located southeast of Asheville, in the small mountain community of Fairview. To visit the farm, call (828) 545-2631 or email info@imladrisfarm.com. You can also find them online at www.imladrisfarm.com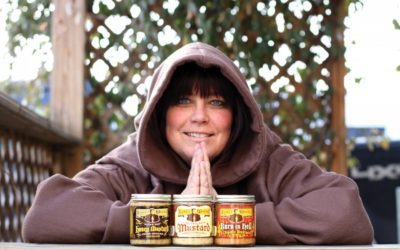 Lusty Monk Mustard
Kelly Davis, Owner & Head Monk
Kelly was poring through an old Victorian cookbook when she came across a recipe for mustard. Curiosity aroused, she decided to make a batch of her own. And what a batch it was! She created the cook's secret weapon, the pretzel's best friend, and the perfect companion for lovers of spice and heat.

Oh, about that name: seems that in medieval Europe, there was a widespread belief that mustard was an aphrodisiac. Some monks were even forbidden to eat mustard, lest they fall prey to carnal desires. Other monasteries embraced mustard making and turned it into an art form. The folks at Lusty Monk are just carrying on that grand tradition.
You can find them online at www.lustymonk.com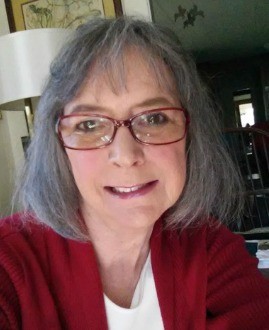 Kay Holmes Stafford
Kay Holmes Stafford
Kay began her career as the staff illustrator for The Mother Earth News in Hendersonville, NC. She illustrated the covers and posters for 12 years, additionally creating the interior illustrations, photography, page layout and design. Freelancing has always been a big part of her work life. She has illustrated and designed for the Biltmore Estate, Catawba College, Garden Way Publishing, General Electric, Lark Books, The Hotel Hershey, and Warren Wilson College just to name a few. With over 40 years of illustration and design experience, her attention to detail of the natural world is the highlight of all her illustration work. Just beautiful!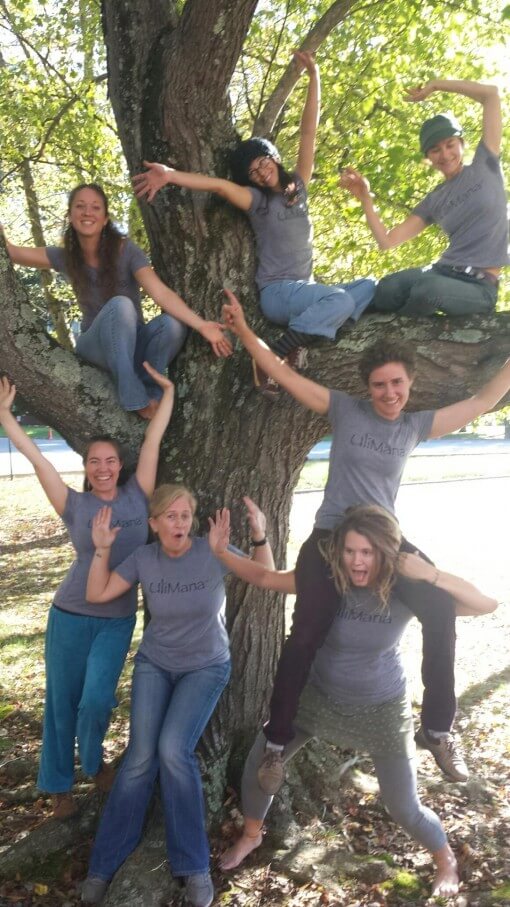 UliMana
Tonya Bennert and the UliMana Crew
At UliMana their mantra is "Eat Raw, Love All." Their love of our beautiful, bountiful earth and all it provides inspires them to educate everyone about the health benefits of eating pure and simple foods.
UiMana was created in 2005 to provide the world with the delicious benefits of raw chocolate. Their first product, Maca Mana, was inspired by David Wolf's book, Naked Chocolate, and was so delicious, they let the creativity flow with their scrumptious line of chocolate truffles.
Ulimana truffles are handmade by a beautifully joyful crew. And you'll notice from your first bite—their joyous energy is contagious.The UliMana story continues with you. Share the joy with someone you love! Find them online at www.ulimana.com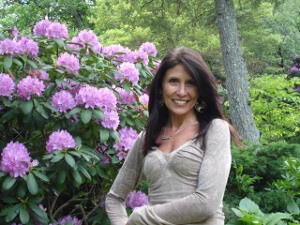 Celtic Sea Salt
Selina Delangre is President and CEO of Selina Naturally®, owner of Celtic Sea Salt® Brand
Celtic Sea Salt® Brand sea salts are authentic, unprocessed, whole salts from one of the most pristine coastal regions of France. They are reputed to be some of the finest salts in the world and are recommended by name by respected culinary and health professionals.

As the exclusive distributor of the Celtic Sea Salt® Brand, Selina Naturally™ connects people with products and provides them with the information they need to make mindful choices toward a healthier lifestyle. They focus on whole-foods-based nutrition, supporting individuals through every step of their journey toward improved health. They also introduce customers to uncommon artisanal products from around the globe.
You can find them online at www.celticseasalt.com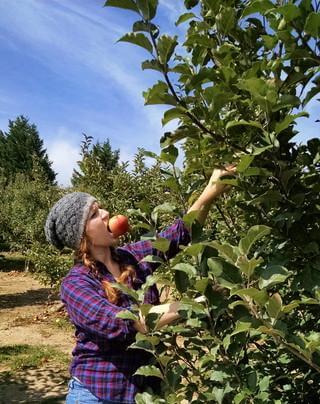 Crooked Condiments
Chelsea Madison
In 2008, not looking for anything in particular (but ready for adventure) a mother-daughter duo set out on the roads zig-zagging across the Blue Ridge Mountains. Lee and Chelsea Madison traveled those crooked roads and met some  amazing folks, who inspired them to open a commercial kitchen and create sauces and condiments using as many local products as they could that would capture the tastes and tales of the region. And boy, did they hit on a winner!
Using Great-gramma's recipe and Henderson County apples, they produce Autumn Night Apple butter——some the best apple butter found in these parts, or anywhere for that matter. And their journey continues as they're now making award-winning hot sauces, barbecue sauces, beer mustards, and dressings. The sauces are produced in small batches to ensure quality and great taste. All are preservative-free and Non-GMO.
They hope to add a little spice to your life's journey. Visit them at www.crookedcondiments.com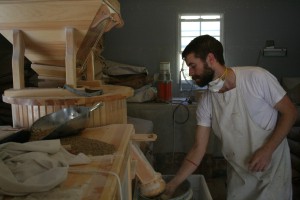 Farm and Sparrow
David Bauer
Maybe you've visited one of the many tailgate markets in Asheville and followed the wafting aroma of freshly baked bread to the big white Farm and Sparrow truck. There you'll find delicious breads and beautiful pastries made from stoneground flours (most organic) many of which are milled on-site at Farm and Sparrow, a wood-fired craft bakery, flour mill, and homestead owned and operated by David Bauer. Located in Candler, just west of Asheville, Farm and Sparrow also mills traditional varieties of locally grown corn for grits, polenta, and cornmeal. David takes great care throughout the milling process to ensure that the unique flavors of all grains are preserved. He works withs regional farmers and Carolina Ground Mill in Asheville to keep grain growing as close to home as possible and working to restore the holy trinity of the farmer, the miller, and the baker. Visit farmandsparrow.com to find out even more.
And don't miss an opportunity to chow down at All Souls Pizza in the River Arts District of Asheville. David Bauer co-owns the eatery with Brendan Reusing, where the cooks mill the grits and polenta fresh every day in the kitchen. Hours and menus at allsoulspizza.com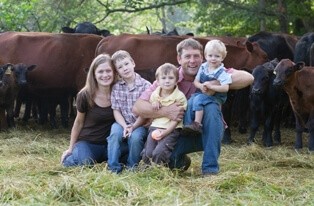 Hickory Nut Gap Farm
Amy and Jamie Ager and sons
Hickory Nut Gap has always been an important gateway across the Blue Ridge. For thousands of years Native Americans lived and hunted this land. The modern history of Hickory Nut Gap Farm began in 1916, with the arrival of Jim and Elizabeth McClure from Illinois. They fell in love with an old inn and its surrounding farm. Henceforth, Elizabeth devoted herself to restoring the inn and its landscaping, while Jim learned firsthand about the many difficulties of mountain agriculture.
In 2009 a conservation easement was placed on the farm's 350 acres of working farmland and forests, preserving Hickory Nut Gap Farm for the generations to come. The farm is currently enjoying a wonderful renaissance. Grass-fed beef, and pastured pork and poultry are raised and sold; certified organic apples are harvested; and many varieties of organic berries are grown. They provide an outstanding example of healthy land stewardship. They are also generous enough to invite others to share the family farm experience. Drop by their beautiful farm and their well-stocked farm store.
You can also find them online at www.hickorynutgapfarm.com
Irwin Design
Dana Margaret Irwin
Dana took private watercolor lessons with artist Lois Thomas, Greenville, SC, from age nine until attending college. She has a BFA degree in graphic design from the University of Georgia. She completed post-graduate studies in painting and printmaking at Tyler School of Art in Pennsylvania, School of Visual Arts in New York, Art Students League in New York, and at California College of the Arts.
Her professional art career began as Art Director of Promotion and Advertising with Avon Books at Hearst Magazines in New York, NY and continued with The Mother Earth News in Hendersonville, NC, Northern California Home + Garden Magazine in San Francisco, CA, at Lark Books in Asheville, NC, and with now Irwin Design here in Asheville where she creates illustrations and artwork from her attic studio in the historic Montford community.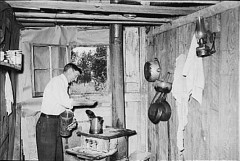 Mountain City Coffee Roasters
Randall Sluder
Mountain City is a micro-roaster of specialty coffee.  Their coffee is roasted in a small German-made Probat roaster one batch at a time, a process sometimes called artisan or craft roasting. They don't profile-roast or have any automated controls on the roaster—they use only a couple of thermometers and their eyes and ears and noses to keep track of the process. They don't have tasting rooms or training facilities, just the know-how to make the best cup of coffee you've ever had.
You can also find them on line at www.mountaincity.com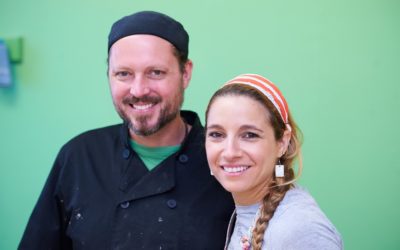 Roots & Branches
Clark & Ana
Roots & Branches is a bakery specializing in artisanal vegan products: small-batch crackers, handcrafted bread sticks, healthy granola and granola bars, and specialty breads. They bake every day and deliver their fresh products to various local markets. Their crackers go perfectly with the local cheeses and spreads. They've already won over the hearts, minds, and stomachs of Asheville residents, and we're betting that they'll win you over as well. Look for them in your favorite Asheville stores, specialty shops, and markets. You can find them online at www.rootsandbranchesavl.com
12 Bones
Bryan and Angela
Some say casual; we say laid-back. If you're looking for some of the best barbecue in the South, this is it. Pulled pork and chicken, baby back ribs, smoked turkey and brisket—and sides to die for. There's definitely something here for everyone. You'll find their restaurant filled with all kinds of folks: locals, laborers, grandparents, tourists, lawyers, artists, presidents, and gallery goers. They've all got one thing in common—and you know what it is. So take a ride down to the River Arts District, and join the crowd. Look them up online at www.12bones.com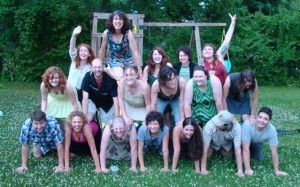 West End Bakery & Cafe
The Team
The Bakery began as a dream shared by two friends, Cathy and Krista, back in 1999. They hoped to build a wholesome, family-friendly, locally-inspired neighborhood cafe for the growing community of West Asheville. With hard work and dedication, they were able to make their vision a reality, turning the Bakery into an iconic West Asheville establishment.
Catherine and Cary met as bike couriers for a downtown sandwich shop, and quickly bonded over a shared love for beer, bikes, food, and Asheville. Over many winter evenings spent at a brewery recovering from cold days on a bike, they discussed their business ideas and dreams, and when the Bakery was listed for sale in 2015 they knew it was a perfect fit. Their love for the Asheville community, fresh local food, and a healthy holistic lifestyle was right at home with West End.
Today Catherine and Cary are excited to continue Cathy and Krista's legacy, and hope you find yourself as happy to be at West End Bakery as they are! Stop by 757 Haywood Road, in the heart of West Asheville. You'll be glad you did.
You can also find them online at www.westendbakery.com