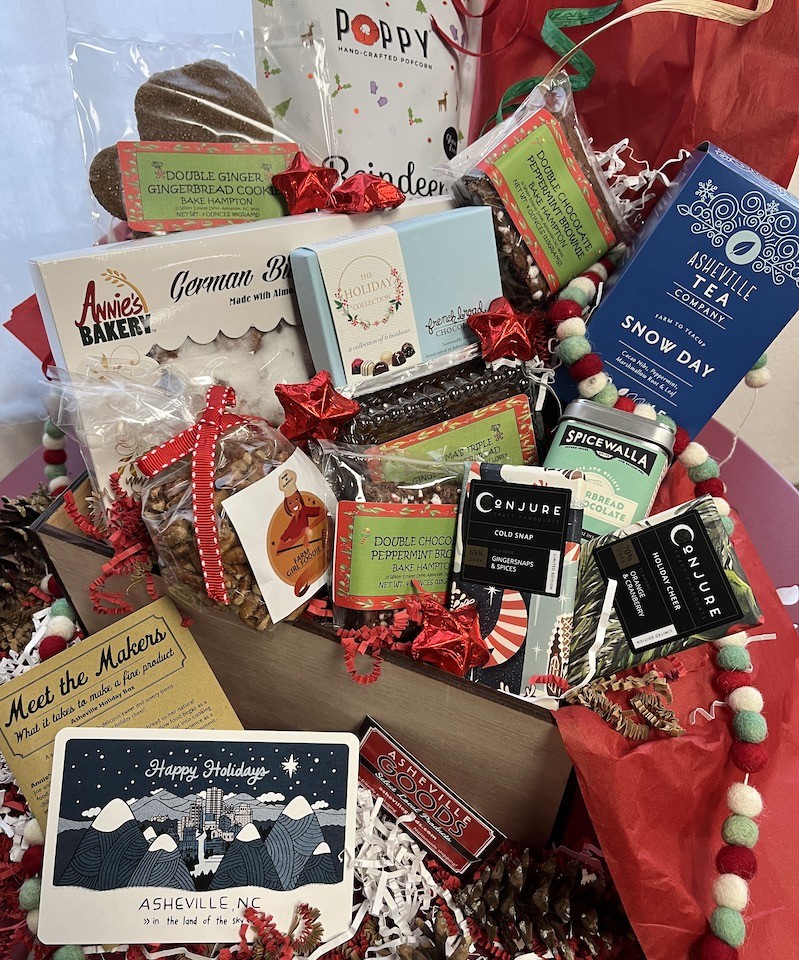 The Asheville Holiday Box is Unavailable!
Ordering is temporarily suspended. We have currently sold out. We will reopen for orders if products become available in time.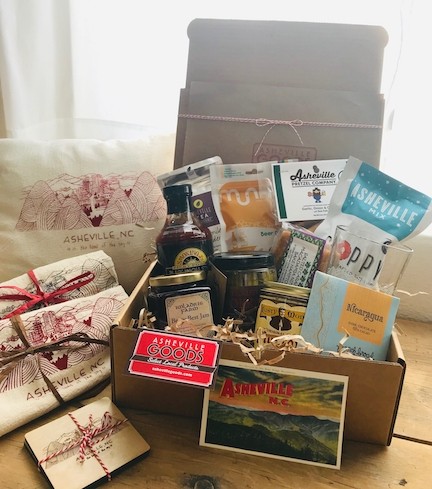 We love Asheville and know that you do too. Choose from our curated gift box selections of all locally-made products, and share your love of Asheville. Perfect for clients and customers as well as well as friends and family for all occasions. We ship or you may pick up your gifts.
When you can't be there, share a little bit of Asheville with your friends and family. The safest way to send love!
Local Gift Box Shop
Our eco-friendly boxes are a great alternative to traditional gift baskets. Your selection comes in a 100% recycled kraft box tied with paper raffia. You may also choose a wood slide-top box engraved with our "in the Land of the Sky" design, or our jute market bag to hold your selections.
We buy from small-batch producers and may need to substitute an item if necessary. If you want specific products, you may want to call us to check availability before placing your order. 828-775-3775.
Mercantile Shop
Consider adding locally-made merchandise to your gift. We now offer etched pint glasses, bar glasses, wine glasses and coasters, handmade mugs, bread boards, as well as tea towels and T-shirts. You'll also find individual delicious products sold here.
Asheville Goods in your Inbox
Sign up for email updates of our latest offerings and events.
What folks are saying about Asheville Goods
I just wanted to tell you how much everyone LOVED your gift boxes! They all decided you're brilliant and hope your business soars. Asheville Goods gift boxes helped make me a welcomed houseguest everywhere I stayed in my travels this summer – HA!
Thank you for working with me,
Asheville Goods is truly a taste of all things delicious and magical from our local economy! I'm a realtor where we specialize in providing clients with all things local, so it's only natural I would want to share these incredibly fantastic boxes with all my clients. Asheville Goods just makes sense! Can't say enough about how awesome they are and how hard they work to provide you with what truly makes Asheville so wonderful— LOCAL LOCAL LOCAL. I HEART Asheville Goods, and you will too! Highly recommend you buy one today!
If you ever wonder "am I crazy to spend this much time and money on packaging?" The answer is "No" – it was like opening a box of jewels. Love it. Rock on 🙂
Thank you for creating more than 90 Sweet on Carolina boxes for our business luncheon. Celia was very easy to work with for meeting our schedule and customizing the boxes with special hang tags and postcards. Lovely presentation of a great gift that is unique to Asheville!
I just wanted to say THANK YOU for such a quick delivery turnaround time during what has to be a very hectic week for your business. The feedback on your gift boxes has been fabulous – my friends are thrilled that all the items come from local small business owners – and now they are busy asking me for more chocolate – lol. Thank you again,
Asheville Goods does an amazing job of capturing the flavor of our local food industry.  We love giving Asheville Goods boxes to our clients when they are purchasing homes, especially to people who are moving into Asheville.  The boxes are beautifully designed and packaged and make a great impression.  Asheville Goods makes it easy for us to support local and to introduce our clients to some of our favorite local foods, and we plan to continue to use Asheville Goods boxes as closing gifts.
I highly recommend Asheville Goods boxes as gifts for those hard-to-buy-for family members and friends. I started giving these boxes two years ago, and they have been very well-received. The variety of boxes available keeps the gifts fresh and different every year. They even sparked a new tradition as we are now getting similar boxes from other cities as gifts in return. Celia has never disappointed in sending out a beautifully presented gift in a very timely manner. Thanks for making my holiday shopping so much easier!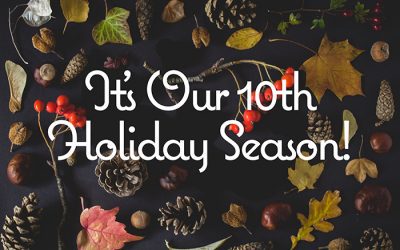 THANK YOU to our wonderful customers for supporting us for 10 years of gifting. We appreciate you! In celebration (and as incentive for shopping early) we're offering 10% off Holiday and Curated Gift Boxes ordered November 1st thru 7th.* For Holiday delivery only! Use...
read more
Updated September 3, 2021 A good half of the art of living is resilience. -Alain de Botton September 2021 Update The Delta variant of COVID-19 is taking a toll in our county. Please keep yourself and others safe by continuing to wear masks and getting vaccinated....
read more
Proud to be associated with:
Asheville Goods packing and pickup shop is located at:
7 Brevard Road
Asheville, NC 28806
In-store hours market hours:
Tuesday, Wednesdays, Thursdays
10:30 – 2:30
and by appointment M – F
Closed Sat & Sun
828-252-9175 or 828-775-3775
Our billing address:
33 Dorchester Avenue
Asheville, NC 28806