THANK YOU to our wonderful customers for supporting us for 10 years of gifting. We appreciate you! In celebration (and as incentive for shopping early) we're offering 10% off Holiday and Curated Gift Boxes ordered November 1st thru 7th.*
For Holiday delivery only! Use coupon code HOLIDAY10 at checkout.
* Shipping for holiday orders begins November 29 *
The always popular Asheville Holiday Box is now available to order on the website!
Plus! 3 NEW MINI HOLIDAY GIFT BOXES!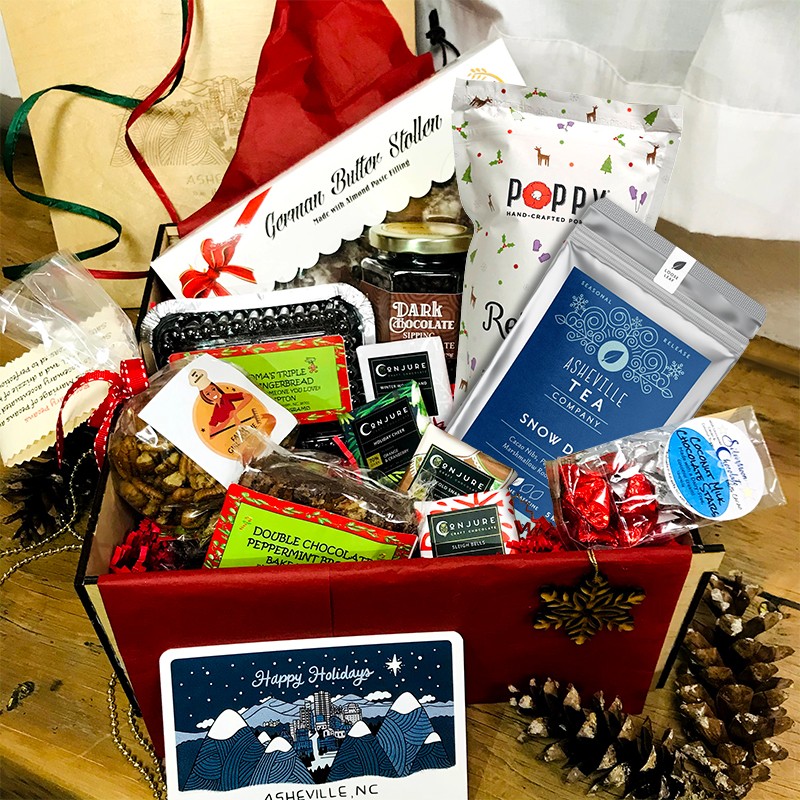 Asheville Holiday Box 2021
Our exclusive combination of special goodies with something for everyone! Requested every year by our customers so be sure to get your order in early! See description below.
The Scone Box – Holiday Edition
Imagine the smell and warmth of fresh scones straight from their oven this holiday. A quick and easy mix joined with delicious spreads. A wonderful gift as is or spice it up by adding a mug, tea towel, or bread board!
We're super excited to offer this year's Asheville Holiday Box 2021. Perfect for nearly everyone on your list, it's packed full of sweet delights that are sure to please. It's practically a holiday party in a box! Just open and serve…or eat!
• Annie's Bakery German Butter Stollen
• Poppy Reindeer Crunch (caramel popcorn and pecans, with dark chocolate drizzle)
• Bake Hampton Grandma's Triple Ginger Cake
• Farm Girl Bourbon Pecans
• French Broad Chocolate Dark Sipping Chocolate
• Asheville Tea Company Snow Day Loose Leaf Tea
• Bake Hampton Double Chocolate Peppermint Brownies
• Silvermoon Chocolate Coconut Milk Dark Chocolate Holiday Stars
• Bake Hampton Double Ginger Gingerbread Person
• Postre Caramel Salted Caramel Chews
We are taking orders now for holiday delivery. Get yours before they're gone!
Order by November 7th and enjoy a 10% discount with code: HOLIDAY 10
on boxes to be shipped November 30-December 22.
Limited quantities of the Holiday box are available. Order early!