Meet the Maker: Asheville Pretzel Company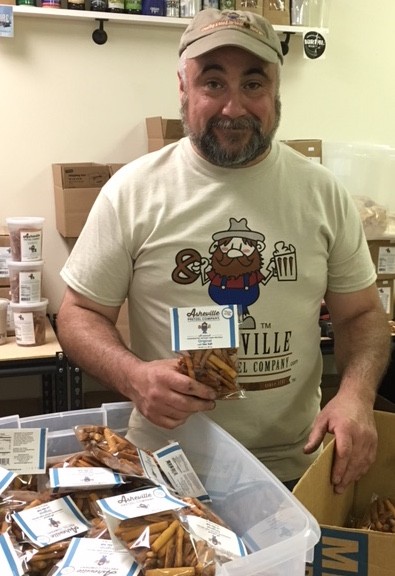 It was his Ah-ha! moment: Steve Michael visited many an Asheville-area brewery that didn't offer up snacks with their hand-crafted beer. For shame! Steve (originally from Pennsylvania—home of the American pretzel) went right to work in his kitchen and developed a hard pretzel recipe, leveraging his childhood experience baking with his father. Steve, while working full-time, refined and tested the recipe with help from friends and co-workers until he created the perfect pretzel stick. Rave reviews commenced, and Asheville Pretzel Company was born!
Now baking in the "pretzel factory" in Black Mountain, each batch of pretzels is hand-formed, using only the finest natural ingredients. The seasonings are baked inside the dough, not just sprinkled on top, so every crispy bite is flavorful and satisfying.
Visit Steve at: AshevillePretzel.com