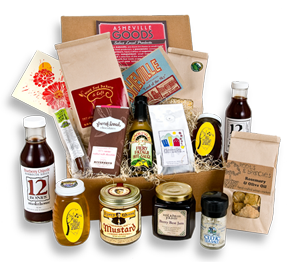 Perhaps it's true as Asheville's favorite son Thomas Wolfe wrote, "You can't go home again"—but who's to say you can't take it with you?—at least a taste of it? We're introducing the Altamont box just in time for the holidays. Filled with local favorites that will remind faraway friends and family just how lucky you are to call Asheville home.
Asheville is a bohemian mountain town of unparalleled charm and beauty, rightfully celebrated for its vibrant and unique local economy. It's home to small-batch artisanal food producers, a passionate community of organic farmers, handcrafters of exquisite sundries, and fabulously independent small businesses. These entrepreneurs not only create and sustain our singular character, but also add strength to our local economy, encourage sustainable production practices, and keep us all healthy.
Here at Asheville Goods, we've handpicked a selection of the area's best local goods. Try the Blue Ridge Breakfast box or sample a variety of Asheville classics with the Land of the Sky  box. If you've got a sweet tooth, our Sweet on Carolina box is just perfect! Our newest box is the Pisgah View Parkway Picnic box. It's a ready-to-eat box of goodness. We invite you to indulge, discover new tastes, and share the love. 
Check out our new offerings at the Asheville Chamber of Commerce Gift Shop. You can purchase the Ellington bag, and the Parkway bag—more great combinations of delicious local goods, beautifully packaged and ready to go.


We support Appalachian Grown certified farms with our product lines.