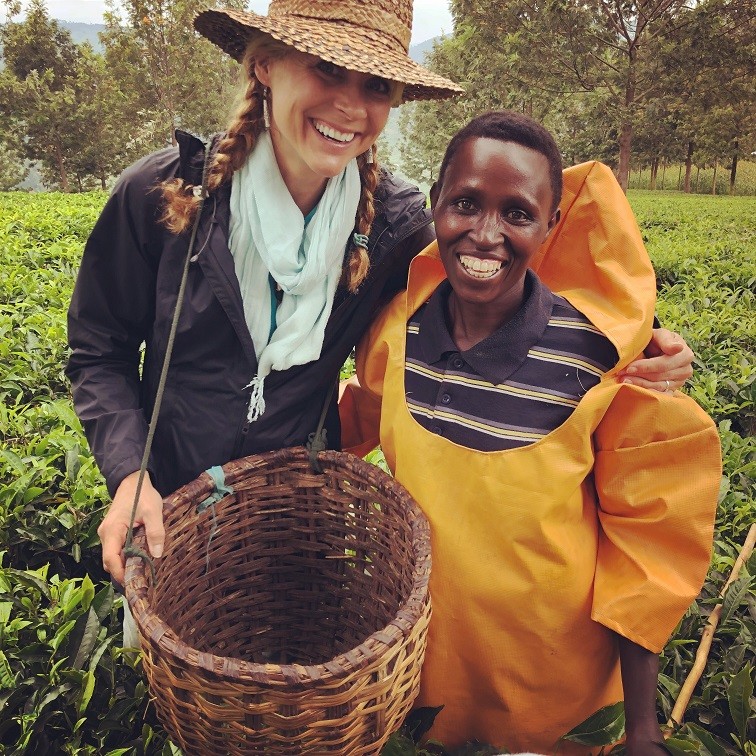 Sara Stender is the Founder and Executive Director of Asheville-based nonprofit organization Africa Healing Exchange (AHE) and the owner of 3 Mountains. She is a passionate global activist and social entrepreneur and is building these organizations with the intention of making a great positive impact on all people involved. She has been working with the people of Rwanda for a decade, creating a vehicle that would support total health for marginalized women, offering resources for overcoming trauma in a post-genocide Rwanda, and to create new economic opportunities for overcoming poverty. In the photo, Sarah is with Beatrice, one of her tea partners in Rwanda. Beatrice teaches tea plucking on Crop to Cup tours.
Under the brand name TÎma (pronounced Tee-mah and meaning 'heart' in Kinyarwandan), 3 Mountains sells organically grown, fair trade loose leaf tea from Rwanda, as well as an organic energy drink, Silverback on Tap™. The tea is some of the best in the world and the fields where it is grown have never seen pesticides. 3Mountains.org
Sara brings guests to Rwanda on annual 3 Mountains Crop to Cup Tours, as well as on annual Africa Healing Exchange service learning trips. If you'd like to join her on one of her journeys, send a message to sara@3mountains.org.
To learn more about the social work and nonprofit activities in Asheville and Africa go to HealingExchange.org.