by Joanne O'Sullivan
We all have that friend who works too hard, or is facing some tough stuff and could use a pick-me-up (maybe it's you). Our Laurel body and bath box makes a wonderful gift for anyone who needs a little self-care or pampering.
We're featuring stories of two of the makers in the Laurel in this post.  Look for other posts soon that offer insight into the other makers in our body and bath box.
Mari Fox of Shecology
Asheville is a place where people embrace the new and the different. There are a lot of "early adopters" here, says Mari Fox, founder of Shecology, the Asheville-based natural cleaning and beauty products company. So it turned out to be the perfect place to start her own revolution in the way people clean their homes and themselves.
Most natural products aren't all they appear to be. Although they claim to be "green" and good for the environment, they're "99 percent high-priced water, packaged in plastic," says Fox. Not only that, many of them don't really work that well. For Fox, this conundrum was also a business opportunity. "I knew I could do better," she says.
Fox started to experiment and develop products in 2010, eventually registering two patents. Her philosophy is simple—"minimalist"—she says. Only the cleanest, purest ingredients; no liquid packaged in plastic. Despite the simplicity of her ingredients, her standards are high. Fox's signature product is Mother's Little Helper, a laundry pill that's made from soap nuts, the dried fruit from the soapberry tree that grows in India and Nepal. This organic, natural resource has qualities that can't be recreated in synthetic products. It's one of the main ingredients in Shecology's Goat's Milk and Soap Nut Body Bar, an Asheville Goods featured product.
This softening and moisturizing soap is made with the same attention to ingredients and effectiveness as Shecology's cleaning products. It's completely organic, non-toxic, anti-bacterial, and hypoallergenic, with scent only provided by natural essential oils. Gentle and frothy, it's designed to nourish dry skin, gently exfoliate and prevent sun damage.
Shecology's goat's milk soap is ideal for people with allergies or sensitive skin. It's safe, gentle and a pleasure to use.
Products this thoughtful and truly good for the environment reflect the spirit of Asheville. Shecology can change the way you approach your skincare, making it simply better. We're please to feature Shecology's goat's milk soap through Asheville Goods!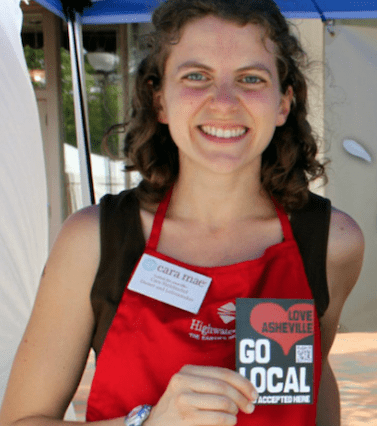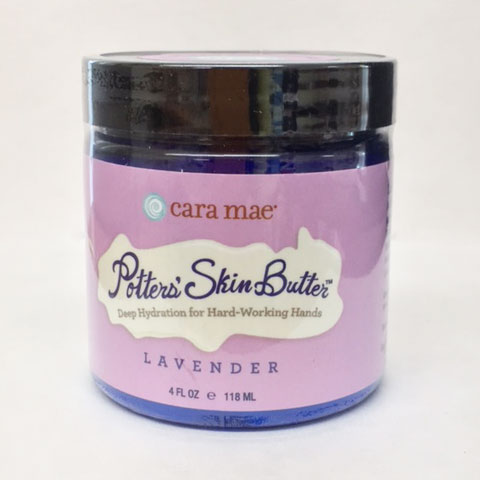 Cara Steinbuchel of Cara Mae Skin Care
The maker community is one of the unique aspects of Asheville that makes it so special. Asheville's ceramics community is especially well known, drawing potters from around the world. Trained as a painter, Cara Nicole Steinbuchel of Cara Mae Skin Care, got involved in pottery when working at a local gallery after art school. Here she found out that many potters have a similar need: a lotion that would moisturize the hands—parched from working with drying clay—so that the artist could get back to work. A lover of science, she experimented with different recipes and ingredients until she found one that the potters she knew said reached perfection: quick absorbing, long-lasting and non-greasy. While this product was first just available to family and friends, it's now Potters' Skin Butter, which we are pleased to feature at Asheville Goods.
"Deep hydration for hard-working hands," is Cara Mae Skin Care's tag line and Steinbuchel's guiding principle. There are so many professions—from nursing to construction to massage therapy—that require the hands to immersed in drying substances, from soap to dry wall dust. The care and hydration of the hands is not just an afterthought: it's essential to being able to continue with work. But Steinbuchel's butter elevates the need for hydration with essential oils, including tangerine, lavender, and mint (there's also an unscented version).
Potter's Skin Butter is made in Steinbuchel's home production facility in Asheville, in which, she says, the scent of lavender and tangerine will linger in the air all day as she works. She uses local spring water from Asheville's Blue Moon in her product for purity and sustainability. Other ingredients include shea butter and kokum butter and a number of botanicals, all vegan ingredients. Steinbuchel makes lotion twice a month in 5-gallon-or-so batches, coming out to over 4,000 jars of lotion a year, all made by hand. In her free time, she also likes to make pottery!
Potter's Skin Butter is "a lotion for people who don't like lotion," Steinbuchel says. One customer even told her it feels like wearing invisible silk gloves. While its specifically made for the hands, it can be used anywhere on the body or face, too. And it goes without saying that it's not just for potters. Anyone with cracked, dry skin will enjoy it. It's also been successful for people with certain skin conditions such eczema.
There's a wonderful symbiosis within Asheville's maker community, with people supporting each other across different fields and businesses. Cara Mae Skin Care's Potter's Skin Butter and Shecology's Goat Milk and Soap Nut soaps are examples of great products that embody community spirit. At Asheville Goods, we are so happy to include these two products in our Laurel box. We sure hope you'll enjoy them!