When you open a box from Asheville Goods, we hope our curated selection of local products serves as an invitation to celebrate, decompress, or entertain—a jumping off point to craft your own special experience. While we have plenty of ideas about how to put our goods to use, we love hearing about all the fun directions you take them. This fall, registered dietitian, nutritionist, and food blogger Denise Shepherd Barratt of Vine Ripe Nutrition, used our Blue Ridge Breakfast box as the basis for a Holiday Brunch. On her blog, Denise makes low-fodmap* cooking fun and approachable with a focus on fresh local foods. We're excited to share her suggestions for how to incorporate the goods from our box into a brunch for holiday company. Without further ado, here's Denise.
Whether you are searching for something to excite a hard-to-shop-for member of your gift list or hosting a bunch this holiday season, the Blue Ridge Breakfast box from Asheville Goods is ready to serve. One of the best ways to be prepared for company calling is to have all the ingredients on hand for a great meal and the Blue Ridge Breakfast box has just about everything I need! It also makes a great holiday gift for hostess or foodies who already have everything.
Asheville Goods has a variety of themed gift boxes featuring goods made in Western North Carolina so there is a box for everyone on your list filled with things they'll love, whether that's chocolate, snacks, or pantry items! Everything is beautifully packed and ready to go, so you don't have to go through the hassle of selecting and wrapping, and boxes can be shipped straight to the lucky recipient with a handwritten note so you can save a trip to the post office this season.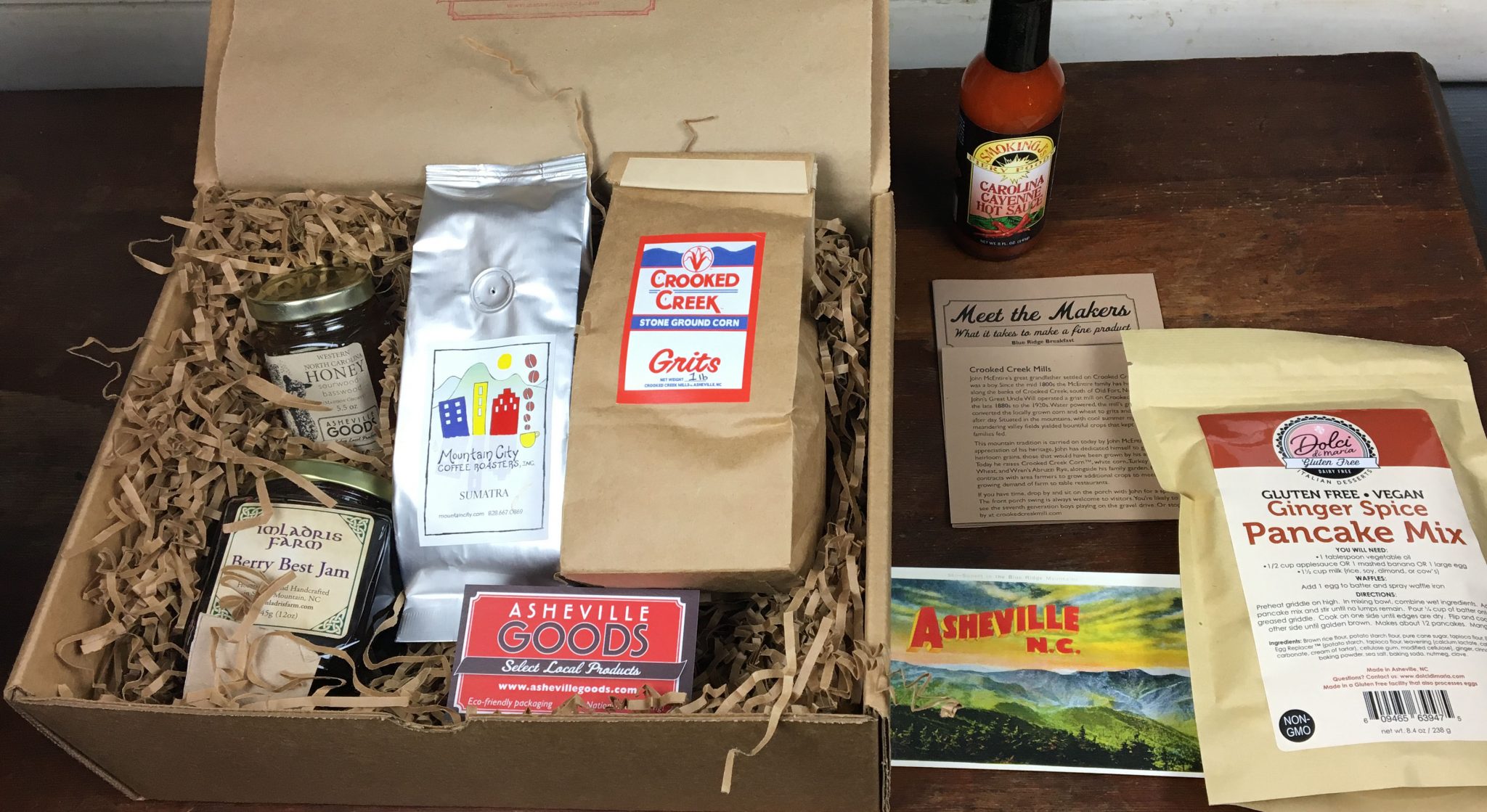 Inside the Blue Ridge Breakfast box, you'll find coffee from Mountain City Roasters, Berry Best Jam from Imlardris Farm, Ginger Spice Pancake Mix from Dolci di Maria, Stone Ground Grits from Crooked Creek Mills, Carolina Cayenne Hot Sauce from Smoking J's and WNC sourwood honey. (You can also substitute Mimi's Mountain Mixes biscuit mix for the pancake mix and/or Crooked Condiments apple butter for the honey or hot sauce).
When I first opened the box, it was obvious that Asheville Goods took lots of thought and care to display the locally crafted products attractively. A "Meet the Makers" brochure is included, with information about the businesses and people who made the products in the gift box. I also love that a reproduction of a vintage post card is in each box. Many of the postcards are from the same location that inspired the name and contents of the box. I think that gives it a very special touch!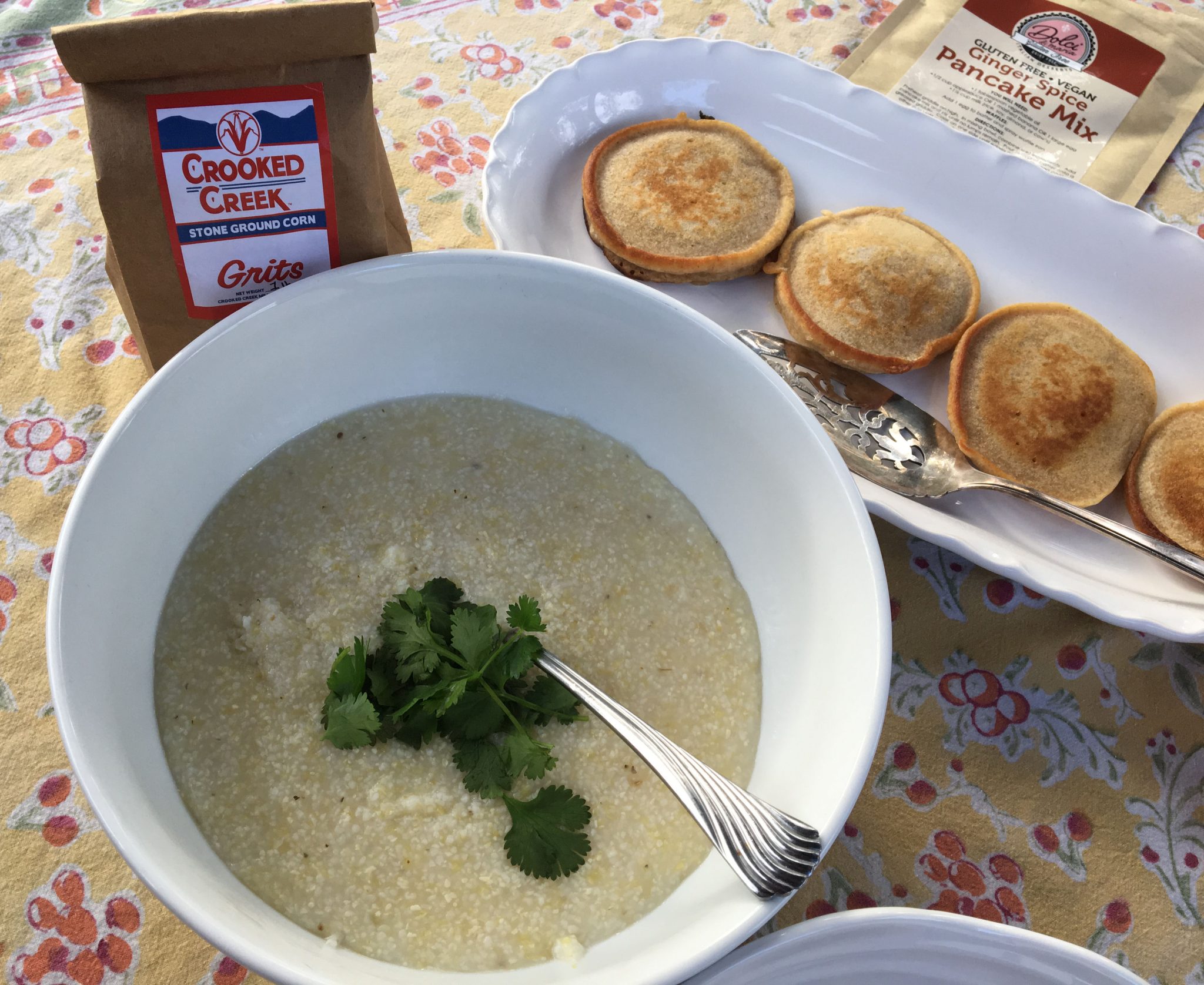 Next it was time to cook and put my brunch together. The flavors of the menu items went well together and were easy to make. It's great that Asheville Goods offers a gluten-free option for people who need or want it. The whole meal made a very attractive breakfast spread! We choose to use the honey and a dollop of jam to top our pancakes. The hot sauce tastes great on top of the grits, and while I made a tofu scramble to complete the meal, local scrambled eggs would also pair deliciously. I have included the Breakfast Tofu Scramble recipe so you can try it with your Blue Ridge Breakfast Box. The Dolci Di Maria Pancake Mix makes about 12 silver dollar sized pancakes so the box serves about 4-6 people to have a festive brunch.
Breakfast Tofu Scramble
Makes 6 servings.
This scramble has a little spice and peppers added. You can also add onions and garlic if desired.
1 box extra firm tofu, cut into ½ by ½ inch chunks and drained well
½ cup large diced red and bell peppers
Spice blend: 1 teaspoon chili powder, ¼ teaspoon turmeric, 1/2 teaspoon ground cumin
1 tablespoon olive oil
Salt and pepper to taste
Heat a medium sized skillet and add olive oil. Lightly brown tofu in the skillet until it begins to get crisp. Toss in bell peppers and let them soften. Add the spice blend, salt and pepper. Mix well.
I am excited to share with you this great gift idea from Asheville Goods made from local products. I also encourage you to get an extra box to keep on hand for the holidays since you never know who might stop by to visit!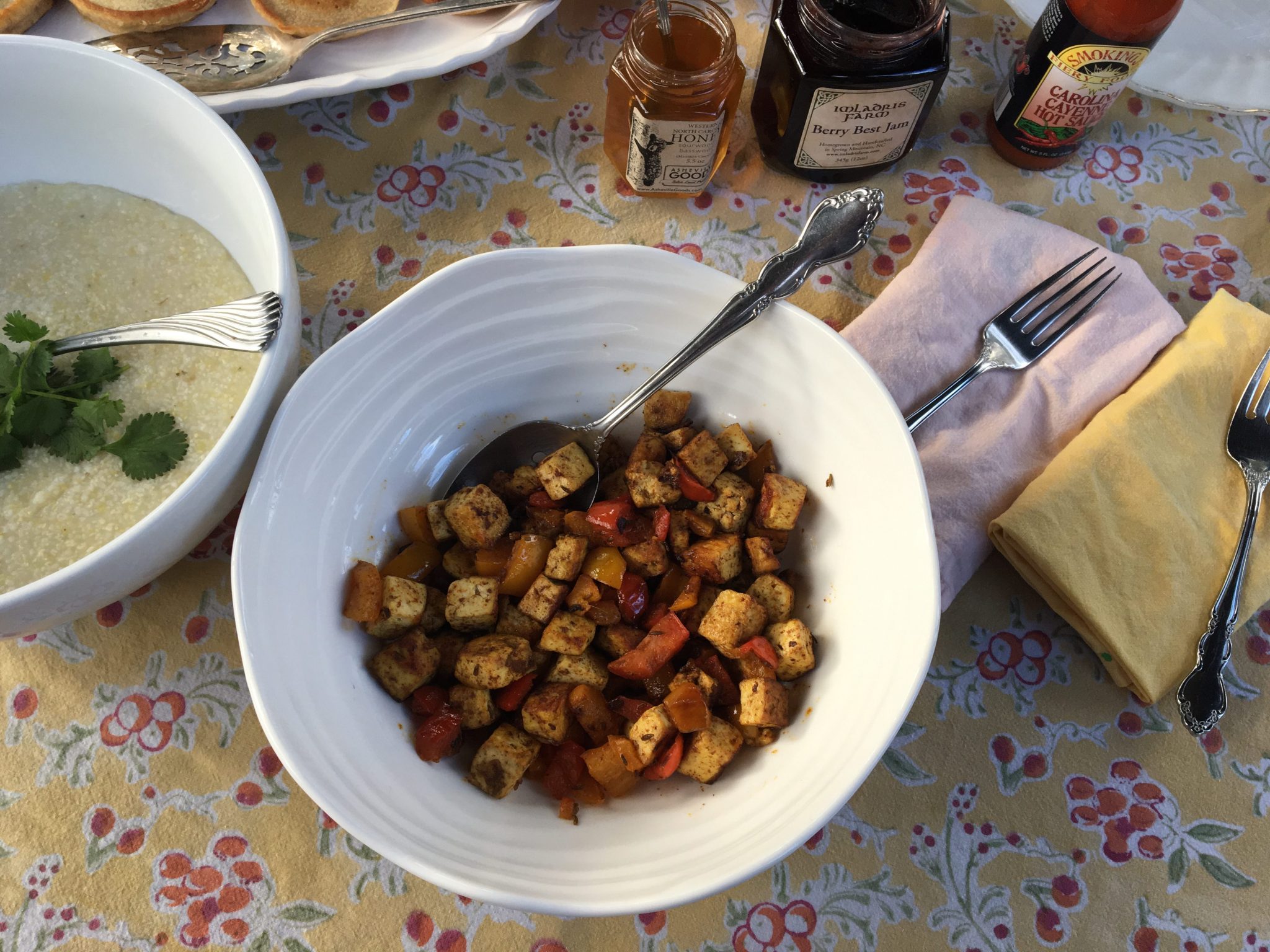 Denise Barratt is an Asheville Registered Dietitian and Nutritionist who specializes in the low fodmap diet and GI health, women's health and plant based eating. She has a local food blog with a focus on seasonal eating at www.vineripenutrition.com. She is the author of the book Farm Fresh Nutrition: Eating Green and Clean and Supporting Your Local Economy!
*low-fodmap: FODMAPs are a collection of short chain carbohydrates and sugar alcohols found in foods naturally or as food additives. FODMAPs include fructose (when in excess of glucose), fructans, galacto-oligosaccharides (GOS), lactose and polyols (eg. sorbitol and mannitol).