Meet the Maker: Blue Hill Essentials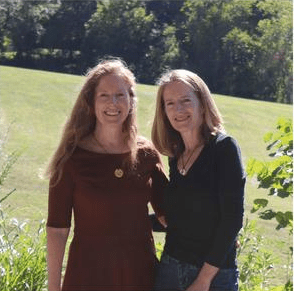 When growing up in the beautiful Berkshire foothills of rural Connecticut, fields of wildflowers, rolling farmland, and quiet forests were sisters Kathy and Bonnie Sheldon's playground. They walked through a red covered bridge to meet the school bus each morning. Today they play in their studio overlooking gardens, a hay field, and the Blue Ridge Mountains of Asheville, North Carolina.
BLUE HILL Essentials embodies their passion for nature's beauty in all its forms. They take moist clay from deep within the earth, mixed right here in Asheville at Highwater Clays, to make ceramic essential oil diffuser pendants. The pure scents of lavender, bergamot, or cedarwood fill the studio as they hand-pour carefully sourced 100% pure essentials oils and work on blends they hope will take you back to a sensory memory you love.
Visit the sisters at www.bluehillessentials.com